Operational due diligence is getting more complex and resource intensive.
DiligenceVault provides a modern, comprehensive ODD platform to execute across every asset class, strategy and fund type.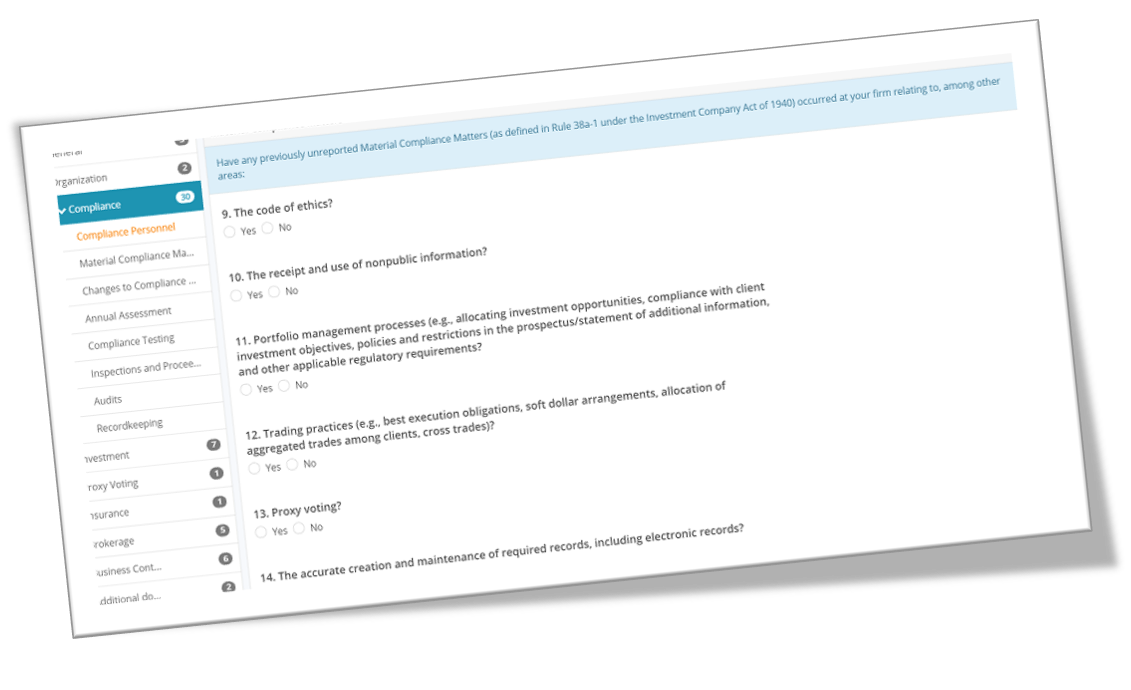 DIGITAL DILIGENCE
Digitize your operational due diligence framework
DigitalDiligence is a core module that enables you to transform your diligence framework across initial and ongoing monitoring of asset managers.
Collect data and documents from asset managers for initial due diligence, ongoing monitoring, and ad hoc information requests.
Avoid avoidable and costly errors when conducting due diligence, and eliminate errors that come from manual processes
Automatically flag risk areas, outliers, and even compliance issues
Enable transparency for the entire team on a centralized platform
COLLABORATION
Collaborative review and authoring
Collaborate with asset managers as well as internal manager research and ESG teams.
Eliminate the need for copy and paste from multiple data sources
Overlay collaborative review process in generating opinions and recommendations
Create presentations from all your research data in a few clicks in your brand
Enable transparency for the entire team on a centralized platform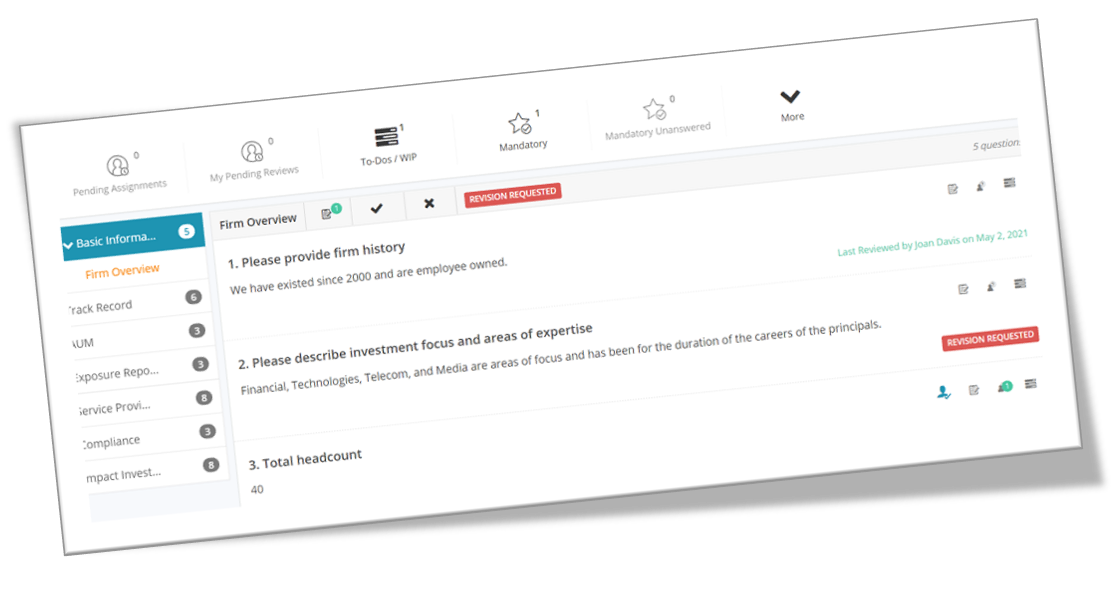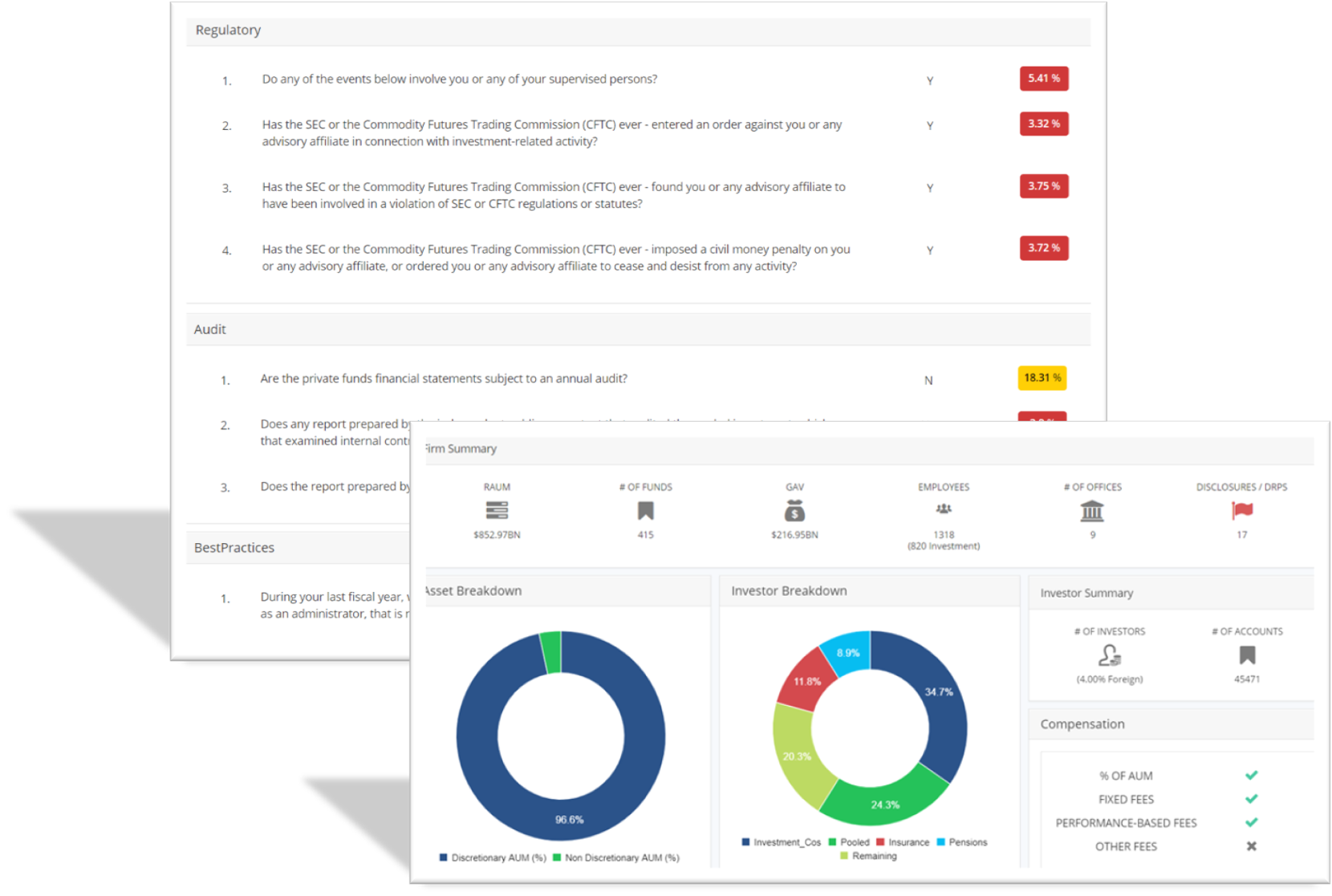 ANALYTICS
Integrated risk-based analytics
Leverage powerful analytics to demonstrate an institutional framework for oversight and governance.
Automatically flag outliers and unusual manager responses
Quickly identify material changes across DDQ responses and regulatory filings
Integrate risk-based scoring to deliver a risk dashboard for the investment committee and advisory clients
View our Regulatory data Module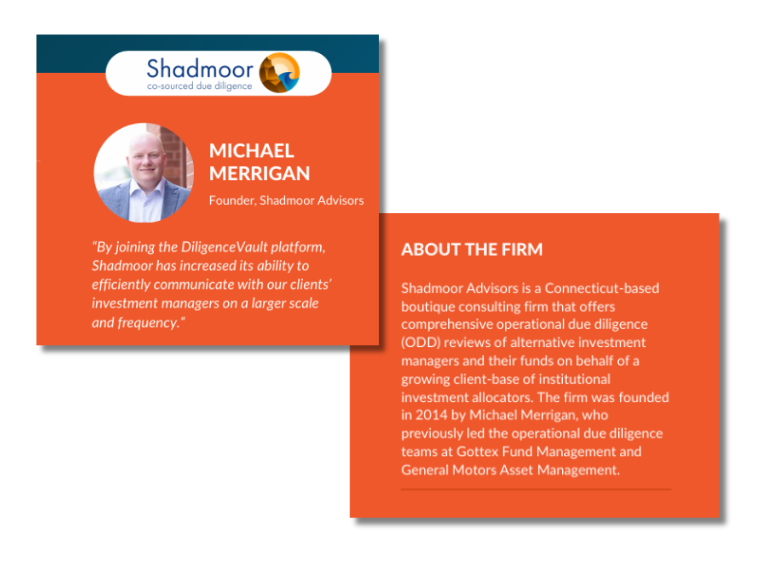 See how Shadmoor Advisors, a leading boutique consulting firm that provides operational due diligence reviews of alternative investment managers, used DiligenceVault to improve how they captured, organized and analyzed manager data, and automated their processes.
READ CASE STUDY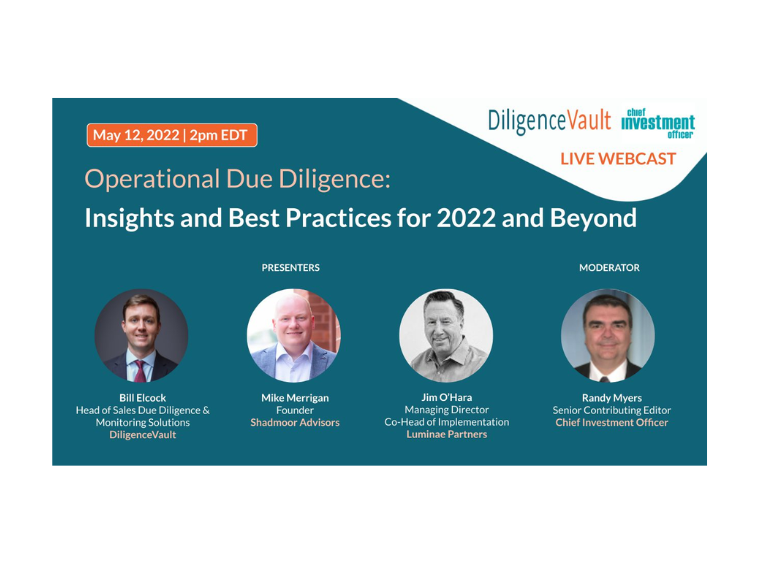 WHITEPAPER: Operational Due Diligence In 2022 And Beyond
A panel discussion hosted by DiligenceVault and CIO Magazine covered the various trends, insights, current challenges and best practices of Operational Due Diligence in 2022, along with how technology is being used to facilitate manager research and to control external party risk.
READ TAKEAWAYS
Want to see how it could work for you?